Our services
Inspection of tanks, spray dryers, heat exchangers, piping and open surfaces
We specialize in inspections of processing equipment to prevent quality problems caused by mechanical defects or insufficient cleaning.
Combining proven methods and experienced people is the key to success.
Let's connect!
Quality
Bactoforce sets the standard
Our customers have high expectations towards our service delivery – over time and across production sites.
As the market leader, Bactoforce responds to these requirements by setting high standards for our work and maintaining an ISO9001 certification.
Standards
Defined standards for defect classification, methods and processes.

Training & Experience
Inspectors are trained internally and externally and build up their experience through years of service.

Food Background
Quality is also defined by the ability to interact with our customers. Inspectors will typically have a background in the food sector.

Safety
3 x safety in Bactoforce
Our work is to contribute to ensuring high food-safety standards in the industry.
We also maintain a focus on work-safety for our personnel as well as keeping your productions assets safe from any harm during the inspections.

Standards
Defined safety standards. We work with our customers to ensure a safe workplace for our common benefit.

High Risk > High Awareness
Inspectors are continuously trained and certified to work in high-risk zones.

Equipment & Tools
Ensuring work safety is also about equipping our inspectors with the right tools and equipment.

The Process
Hygienic Maintenance is a recurring process. Bactoforce manage the overview and scheduling, so you can focus on your production.
The Dynamic Inspection Plan is the central tool in the relationship between you and Bactoforce.
The plan includes information about the processing equipment, inspection types and the agreed inspection interval.
Based on these basic inputs, Bactoforce can take charge of managing and optimizing the service delivery in close cooperation with your production planners.
All information is stored safely in R-Force, our on-line inspection management system, where you can access all information related to your production site.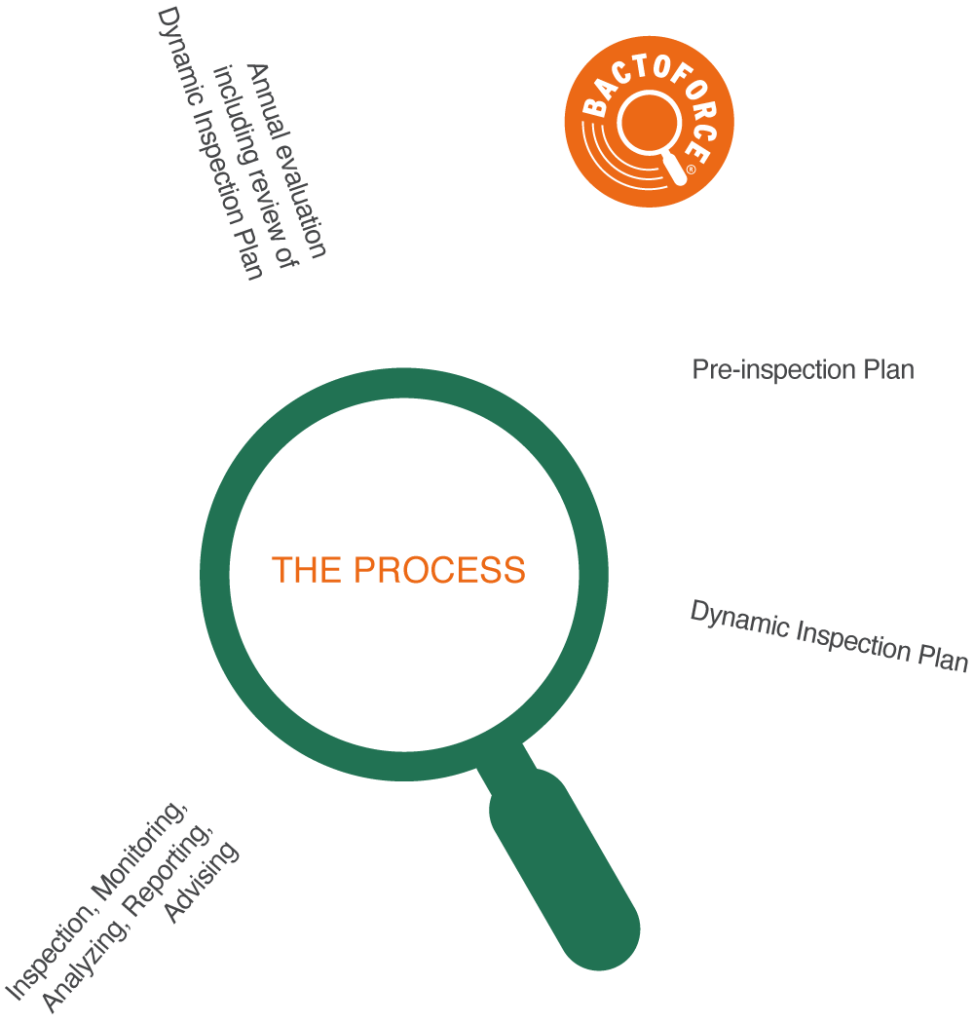 TANKS
Validation, integrity test and riboflavintest of new and operating tanks
Inspection of tanks will reveal information about any cracks, mechanical defects, residues or foreign objects, which potentially can compromise product quality. The Riboflavintest validates if your CIP installation is operating to its specification. The inspection methods are applicable for all kinds of tanks (storage, processing, sterile, transport, CIP, etc.) and in any shape and size.
SPRAY DRYERS
Integrity test of spray dryers, cyclones, bag filters and fluid beds
Inspection of spray dryers will reveal information about any cracks, mechanical defects, residues or foreign objects, which potentially can compromise product quality. The inspections are performed with a minimum of downtime and installation of access equipment. Immediate classification of defects and facilitation of safe access to repair crews.
HEAT EXCHANGERS
Inspection of all type of heat exchangers to test for leakages, validate cleaning and check holding time
Leakages in heat exchangers can lead to product contamination as well as pollution of the energy media. Testing is performed without opening the heat exchanger leading to significant cost savings.
During the same inspection Bactoforce can test for organic residues to validate the CIP effectiveness. Bactoforce performs holding time test of pasteurizers according to US Army approved specifications.
PIPES
Endoscopy of pipes to check quality of weldings, residues, dead ends and other defects
Systematic validation of weldings on installation will often lead to an improvement in the welding quality and reduce the risk of hidden hygienic risk zones. The test is performed in accordance with agreed criteria for sample size and quality specifications.
Inspection of pipes in existing installations can reveal residues caused by design, modifications or insufficient cleaning.
OPEN SURFACE
Hygiene inspection of open surfaces to validate the cleaning and hygienic design
Systematic inspection of open surfaces and subsequent follow-up over time is a useful tool to maintain a high standard of cleaning. The validation can assist cleaning personnel in focusing on critical areas and continuous improvement. Inspection of open surfaces can also by used to identify areas where hygienic design problems are causing insufficient cleaning.
SENSORS
Traceable, on-site calibration of temperature, pressure and flow instruments.
Based on an agreed calibration strategy and plan, Bactoforce manages the cooperation proactively to ensure calibrations are performed according to schedule. Calibrations are performed according to best-practice on-site calibration routines. We provide full traceability according to national standards. On-site calibration furthermore allows you to calibrate the whole system from sensor to control unit.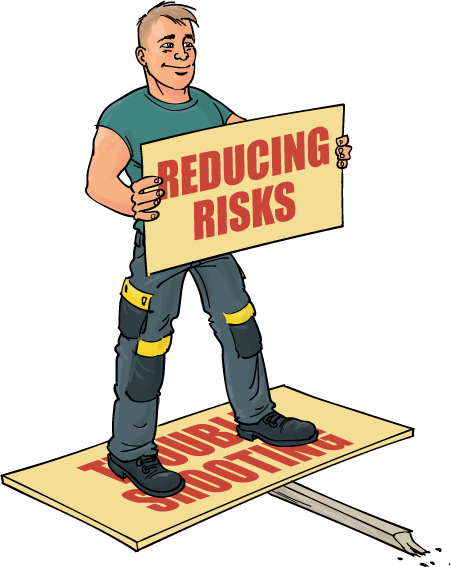 Online access to reports, planning and risk management
R-Force is the on-line inspection management software, which allows our customers to have full access to inspection plans and reports at all times.
Use the system to exchange information with Bactoforce and stay in control with the hygienic condition of your production line.